Can I/How do I switch the domain on a Pagely site already running?
Last Updated -
---
Switching aliases on an existing site
You'll first need to point the new domain name to Pagely. (How do I point traffic to Pagely? DNS / CNAME)
Login to atomic.pagely.com and click on Sites > All Sites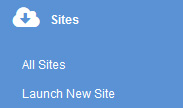 Then click on the domain name you wish to modify > App Details.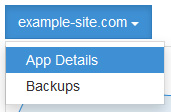 If you'd like to use a brand new alias, click the 

in the right hand corner and add the new alias. The new alias would be the new domain name you wish to use.
When you see the new alias click the 

to promote it as the primary domain.

Once you've clicked on the

for the alias you want to promote, you should see the following prompt.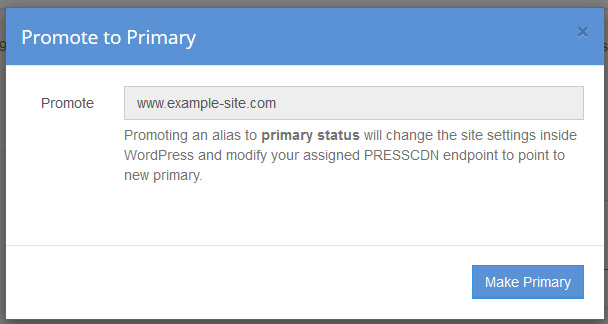 Click on the Make Primary button to promote the alias.
This action will trigger a URL update and update at the CDN end point so it's important this is done.
Your site should now be running under the new domain name, you may need to login and change a few settings as needed from the old domain name to the new one.
---
Switching aliases between two apps
This situation is applicable if you develop your site on a staging site (ex. staging.example-site.com) and wish to have it used as your production site.
NOTE:
If you switch aliases between a staging/dev site and production site
and
use
PressDNS
, you must ensure you re-create the DNS zone on the production site.
Ideally, you'd want to do the following steps:


Change example-site.com to something like old.example-site.com
Remove the aliases from the newly renamed old.example-site.com
You need to be sure you add the production domain's aliases so you'll want to add the aliases (example-site.com, www.example-site.com) to the staging/devlopment app.
Change the primary domain to example-site.com
Switching the alias via atomic will also trigger an update at the CDN end point. If you'd like to find/replace URLs on the site, you can use the following plugin:
https://wordpress.org/plugins/better-search-replace/