Collaborator Management
Last Updated -
---
The recent update to Atomic has some major updates with role and permissions functionality, most importantly the primary account owner will now have control to create collaborators. Secondly, all collaborator's are provided with their own primary Pagely account as well. This will provide the ability for users to be attached to multiple accounts across Pagely and maintain a primary account as needed. You can view which accounts you have access to within Collaborator Access navigation menu item. The last big update is SSH Key management and access, any collaborator role that allows SSH access will now be able to manage this themselves and will require the users public SSH key. 
It's important to add any and all collaborators (with appropriate role) in the event we need to communicate with your team regarding important service and account notifications. Our correspondence will be limited to those who are not listed as collaborators.
---
Viewing which accounts you have access to. 
Open Account > Collaborator Access in the left navigation panel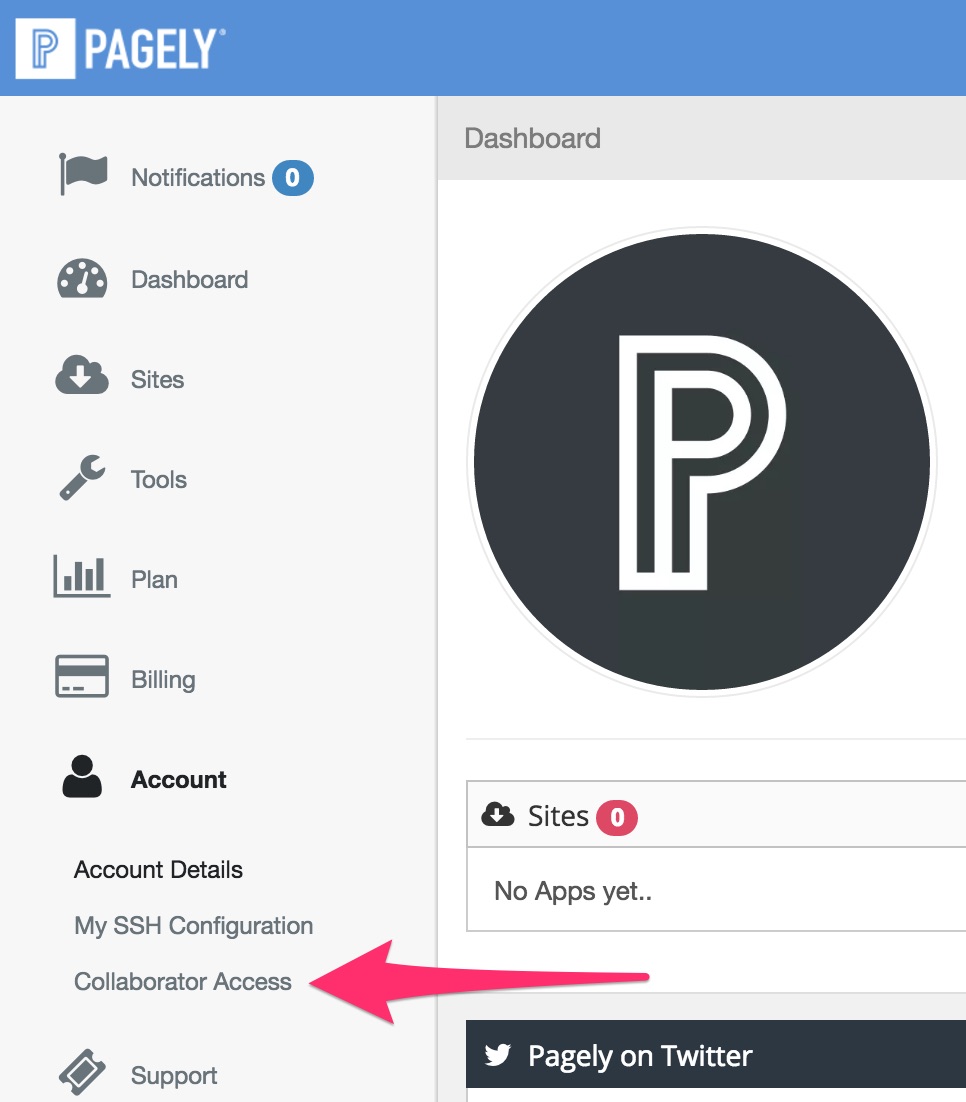 This will open the following window on the right-hand side.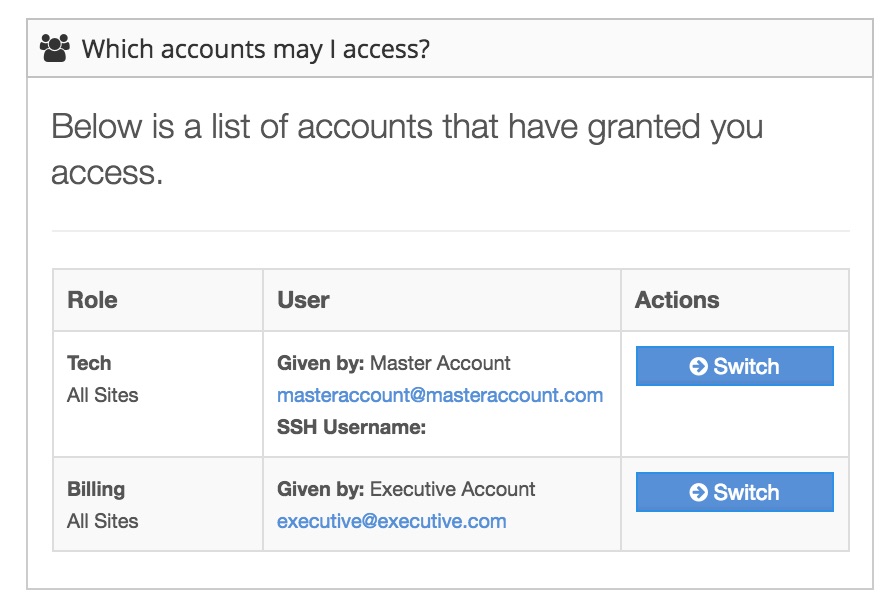 Toggling between your accounts.
Selecting the "switch" icon will allow you to log into the different Pagely Accounts you belong to. As you switch accounts you will notice the left navigation in the Atomic panel will have different options based upon what level of access you have been given. For example, an SFTP only user will not have the ability to see billing information. 
   Parent Account (Admin Navigation)                              Collaborator (Role Navigation)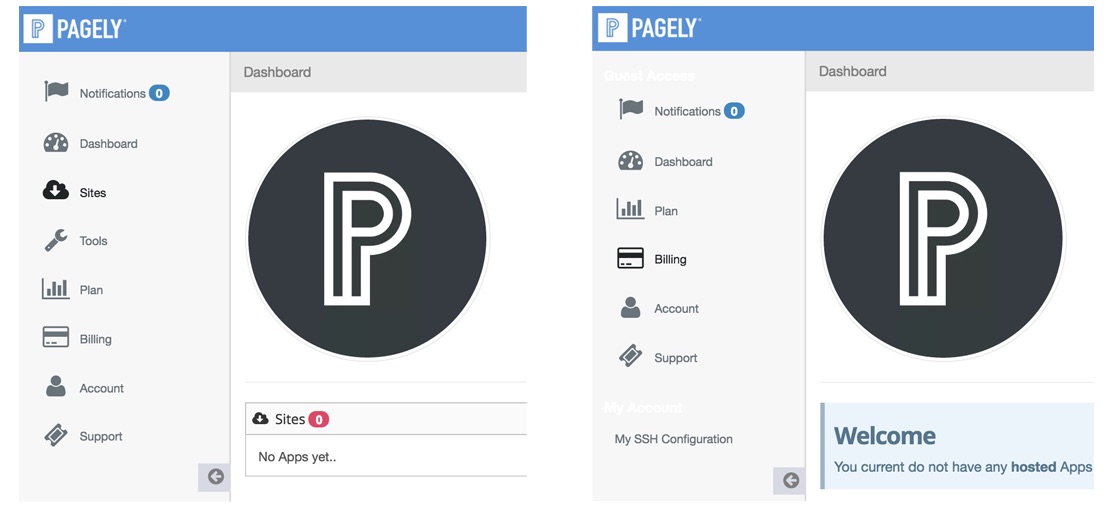 Logging out or switching the active account.
When you need to log out as a Guest, click on your username at top right and select "Logout". This will log you out as a Guest and put you back into your primary Atomic Panel. You can also view and toggle between which accounts you have access to from this view.

Managing SSH/SFTP access.
To configure SSH access as a collaborator please see the following: Add SSH Public Keys to your Pagely Account
Collaborator Permissions
We currently have six different levels of access for an account. Please see the spreadsheet below for the full list of permissions.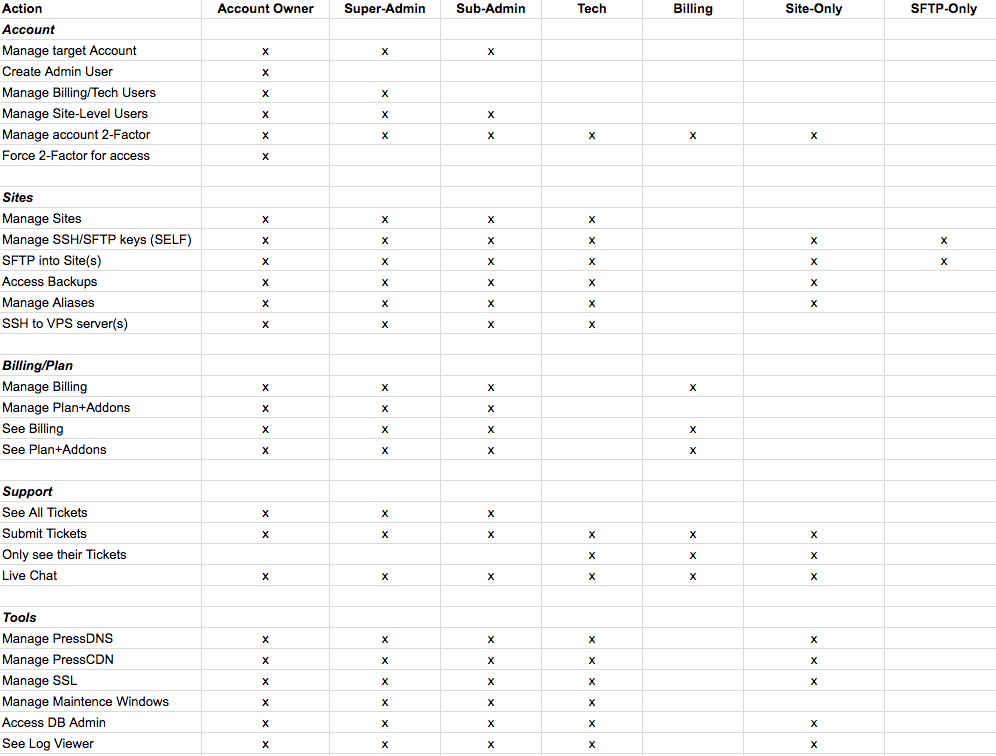 To view a larger version of the user permission matrix above, please click here.
Editing current collaborators' role.

Unfortunately, that's not possible at this time. If you wish to change a collaborator's current role, you will need to remove the user then re-add with the correct role.
We've added this function to our feature list for our next update.
Check out a short video overview on Collaborator Roles and Permissions.