Using PressDNS™
Last Updated -
---
PressDNS™ is our DNS system backed by Amazon's Route53 service. It is free to use for all Pagely's customers and brings a very important benefit to users: that being automatic PressCACHE™ global delivery.
Please review some important notes regarding the use of PressDNS at the end of this article.
---
To use PressDNS:
Log into atomic-beta.com and select "DNS" on the left-hand side...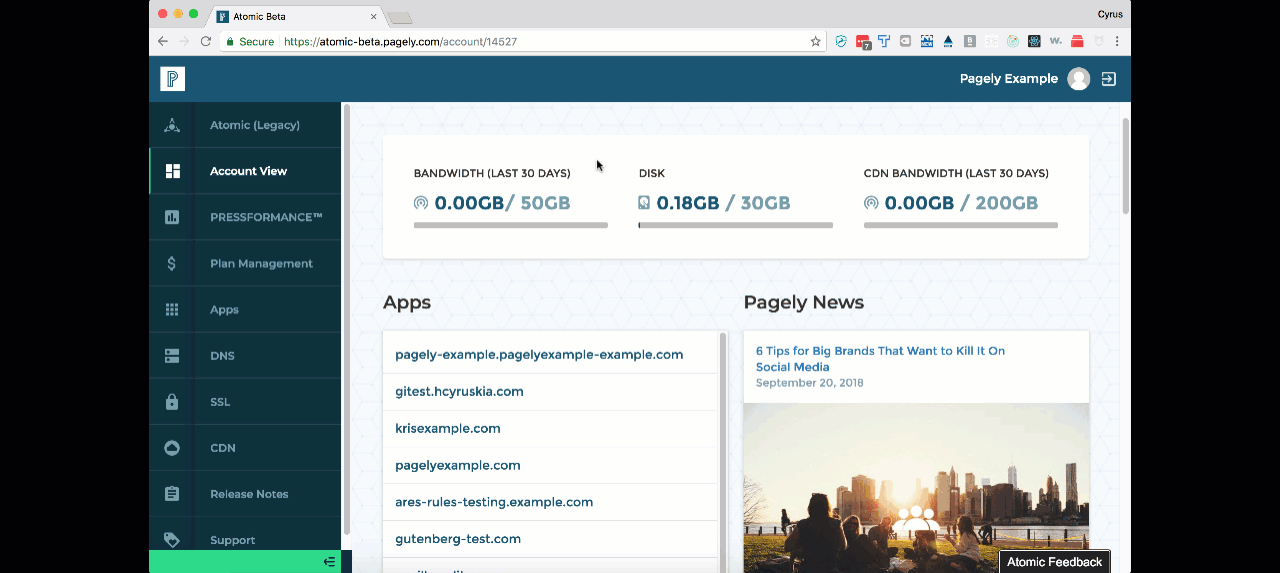 Adding a new zone is as simple as selecting an alias from the dropdown. Our system will drop any subdomain (www., blog.) and create the new zone for the root/apex domain.
You can add new records at anytime by entering a value (or leaving blank for apex records) a record type and desired TTL.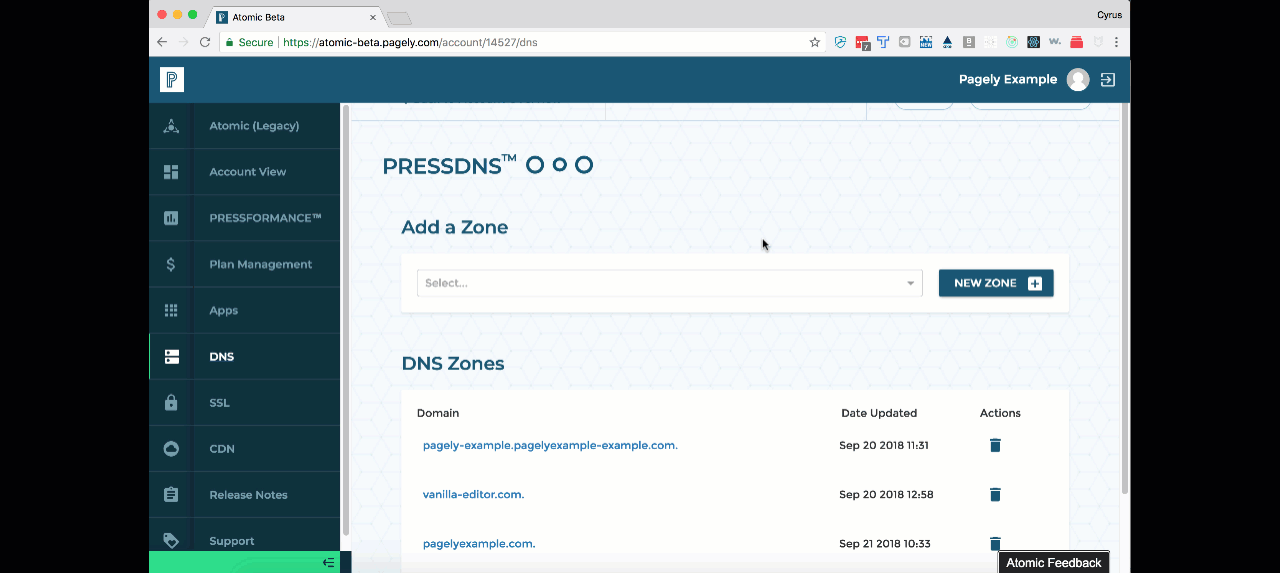 The Google Apps shortcut for quickly adding DNS records still exists in Atomic Legacy and will eventually be added to our new atomic interface, until then, here are the steps for enabling it in Legacy
If you're already using Google Apps for email and other features, you may use the

button to pre-populate common entries.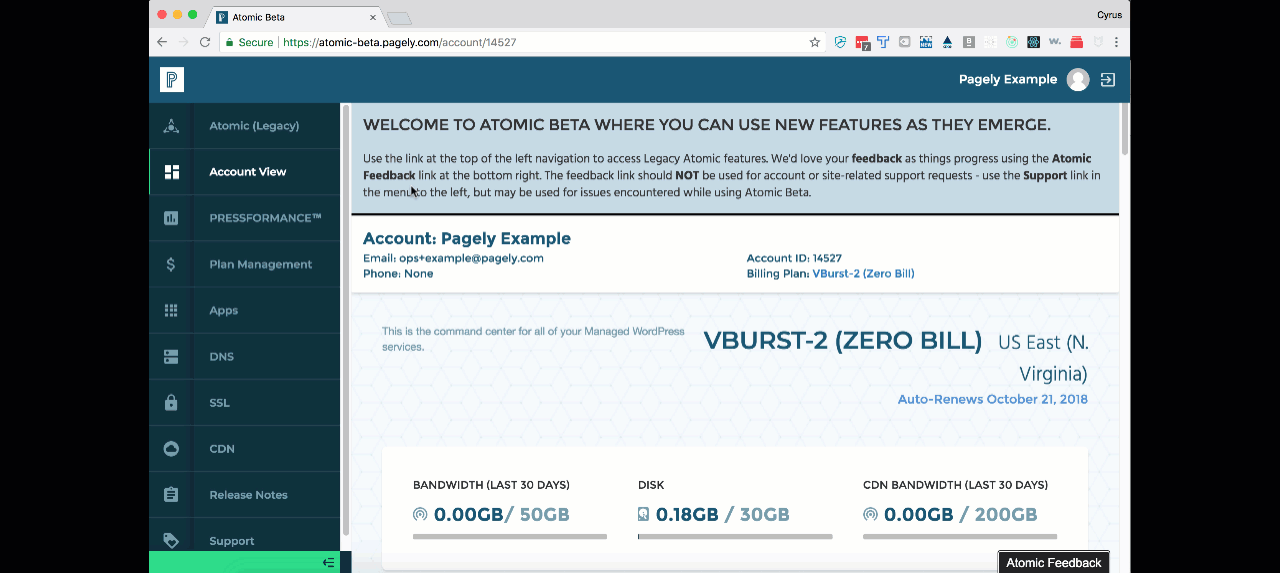 If you do not need certain DNS records, feel free to remove them but we highly advise leaving the MX records as is and set to the default values.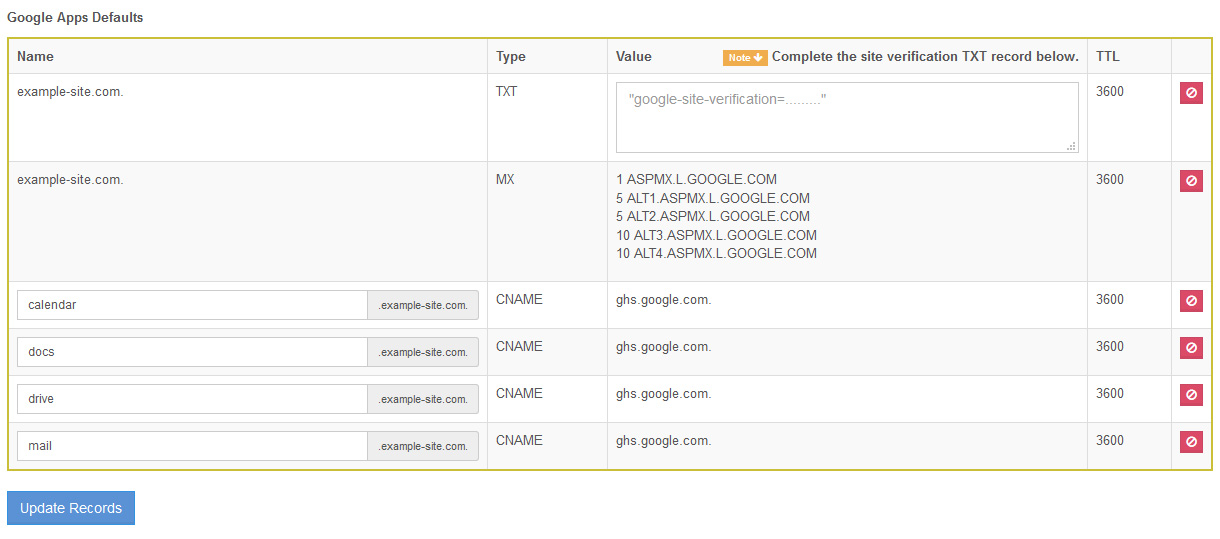 In order to use any DNS records active in PressDNS for your domain, you must update the name servers with those specified in the DNS zone with your domain registrar.

Name server changes can take up to 24-48 hours to fully propagate.
---
Important Notes
If you cancel your Pagely Account your PressDNS zones go with it, so please be sure to make arrangements prior.
Customers may create the same number of DNS zones as the number of sites allowed on their plan. Example: VPS-1 allows 35 sites, so you may have up to 35 DNS zones.
Each PressDNS zone you create is allocated by domain ID. You cannot reuse the same name servers for any other app/domain. This also applies if you switch aliases between two different apps, so please ensure you re-create the DNS zone as needed on the production app.
You will need to create a separate PressDNS zone for any other domains you wish to manage. If you add an alias and want to manage the DNS here, you would have to add that as a separate app entirely. For this type of setup, we recommend using an external DNS provider.