PressDNS™ is our DNS system backed by Amazon's Route53 service. Not only does it provide the rock-solid reliability and blazing speed of Route53 to our customers, but it also allows automatic PressCACHE™ global delivery of your site's content.
Changing Your Domain's Nameservers
To use PressDNS, you'll need to point your nameservers to the correct location. To put it simply, your nameservers say where to find your DNS records. Here's how to find your nameservers:
Finding Your Nameservers
Log into the Atomic control panel.
On the left side menu, click on DNS.
If you already have a DNS zone listed for your domain, you can skip this step. If not, locate the Add a Zone section, select your domain, and click the New Zone button to add a new DNS zone.
You should now see your DNS zone for your domain that you want to point. Click on the domain to manage that DNS zone.
Inside the DNS Records section, you'll see a few DNS records. Locate the value for your NS record. That's what you'll use for your nameservers at your domain registrar.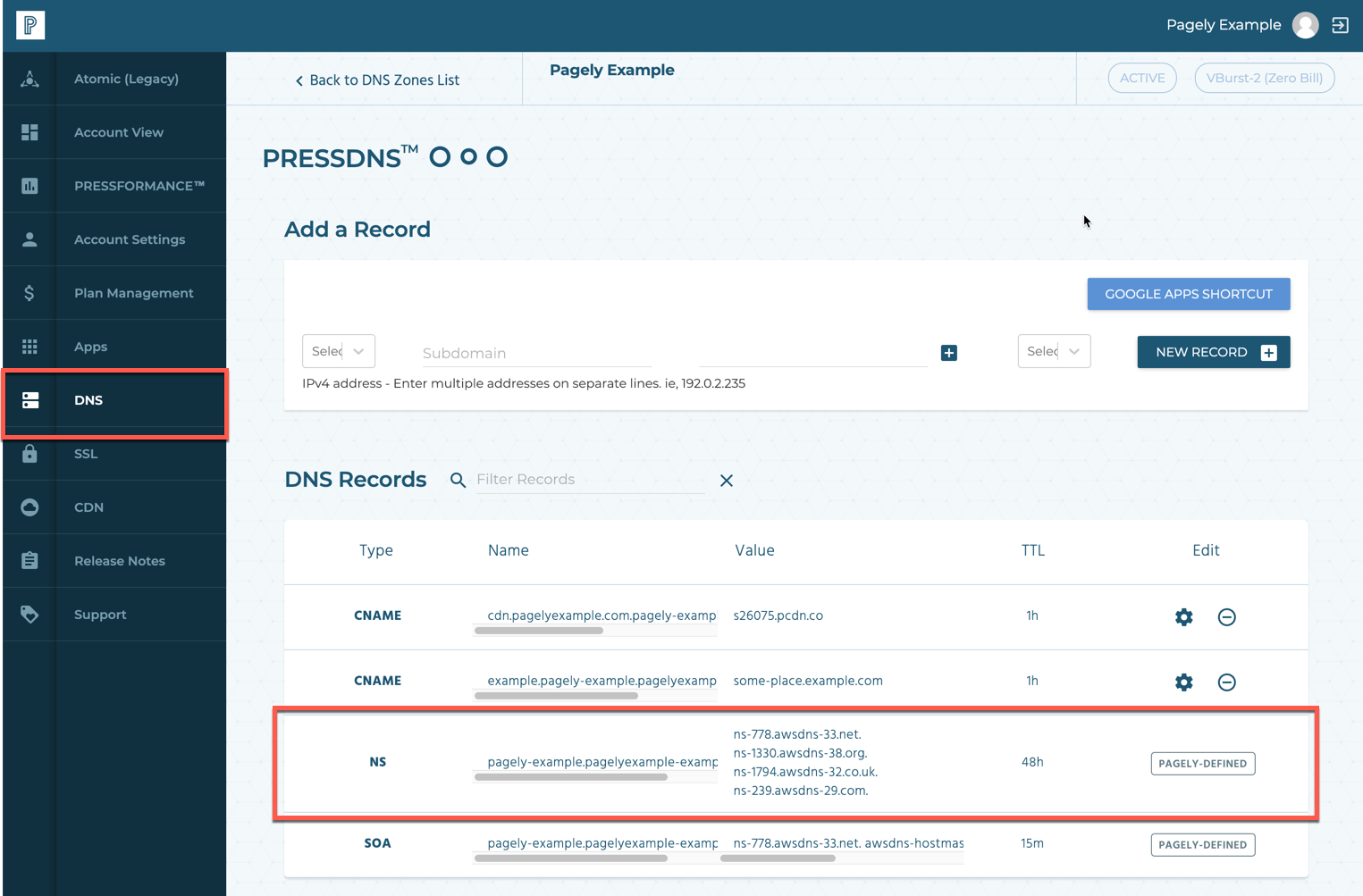 Pointing Your Domain
To point your domain nameservers, you'll need to change the record at your domain registrar. You'll want to check their documentation or contact their support for more information on changing nameservers at your domain registrar.
Updating DNS Records
To update your DNS records for domains using PressDNS™, take a look at our article on changing DNS records in PressDNS™.
Wait For Propagation
When someone visits your site, their DNS provider (usually their ISP) will read your domain's DNS records and usually cache it. Depending on their cache policy, it will be stored for a certain period of time before they refresh again.
Due to differing policies across different DNS providers, you might need to wait a few hours for changes to take effect. Usually, it takes place within a couple of hours, but can take up to 48 hours to fully propagate.
If you're not seeing your changes taking effect, take a look at how long it's been since you made the change. Chances are, you'll just need to wait a bit longer for propagation.
For more information, take a look at our article on DNS propagation.