Upgrading your Plan, or requesting an add on is straight forward. However, we're not in the business of of charging for no reason. We recommend contacting support for any add ons or server upgrades you feel might be appropriate.
Upgrade or Downgrade your server/Plan
To upgrade your Account Plan, log in to your Atomic Dashboard > on the far left select "Plan management" > look and click the "Change Plan" icon > after this, scroll down and under "upgrades" select "Request Upgrade" right of the server plan you wish to upgrade to.
Downgrading is the final option on the same page "Change Plan" page.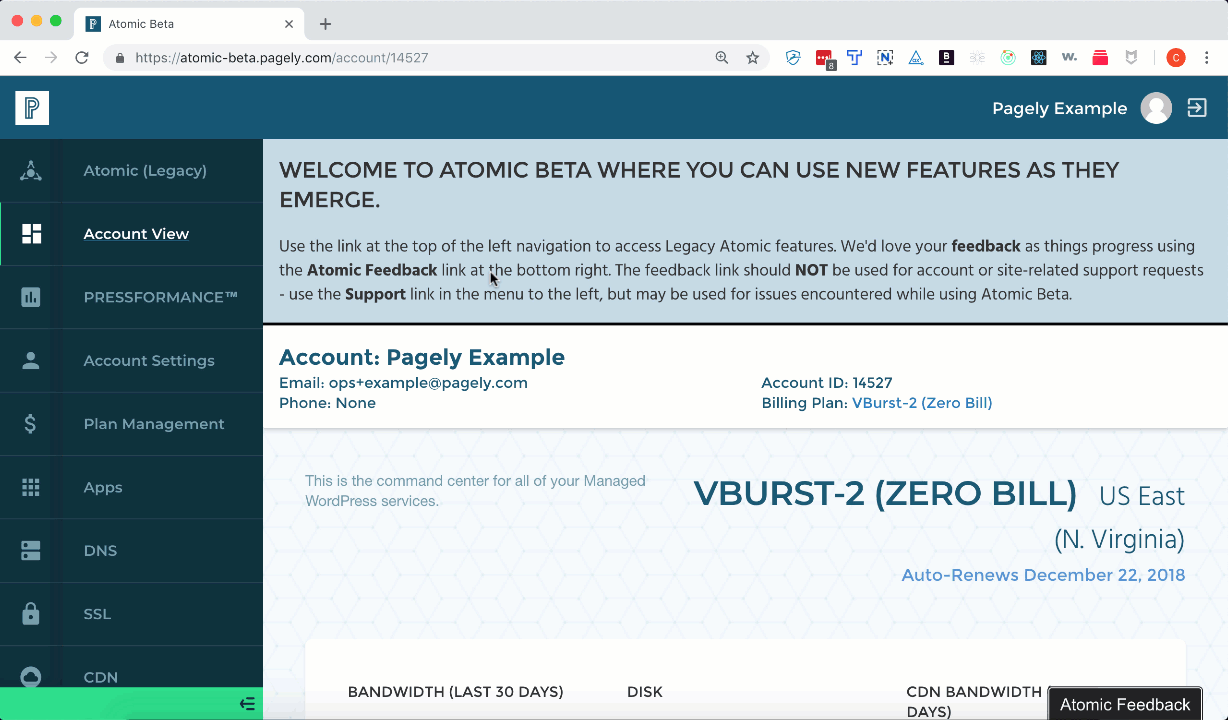 Request an Addon
Please contact support to request any of the add ons below. In most instances these add ons will come to your attention when a member of Pagely's team recommends one.
Comprehensive Monitoring Service
A comprehensive suite of monitoring services for custom Pagely Enterprise customers. Includes a dedicated monitoring node, CloudWatch alerts and logs, etc.
100TB PressCDN
Bulk rate for 100TB CDN
50TB PressCDN
Bulk rate for 50TB CDN
100GB Expansion SSD
Add an extra 100GB of SSD backed storage.
1TB Bandwidth
Add an additional 1TB of bandwidth to any plan
500GB Bandwidth
500GB of additional monthly bandwidth for your plan
Hyper 15TB CDN
15TB of CDN
Hyper 10TB CDN
10TB Monthly CDN
Custom SSL CDN Domain
For apps that utilize a custom SSL on their PRESSCDN.
10GB Expansion SSD
Adds 10GB of SSD backed storage to any plan.
50GB Expansion Bandwidth
50GB additional bandwidth added to any plan.
ZOMG 5TB CDN
5TB of CDN transfer per month.
Mega 1TB CDN
1TB of CDN transfer per month.
Super 500GB CDN
500 GB of CDN transfer per month.
Ultra 150GB CDN
150 GB of CDN transfer per month. $.12/GB thereafter.
Base 50GB CDN
50 GB of CDN transfer per month. $.12/GB thereafter.
More options are avaialble on a case by case basis.